December 10th, 2008
Christmas time is here, by golly! (Disapproval would be folly / Deck the halls with hunks of holly / etc etc.) This means that lists are starting to pop up everywhere. "Best games of 2008," "Most ridiculous hairdo of 2008," "Top STDs of 2008″ and so on. Cynical Stuff can't be any worse, so here's my own incredibly well-researched and non-biased list. I couldn't find any suitable 2008 theme, though, so I went for:
Top 10 Songs Under One Minute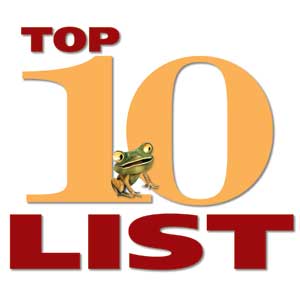 My criteria are as follows:
Only reasonably well-known songs.
No jingles or theme songs. This means that I had to remove the Dethklok theme from my list, unfortunately.
The length of the track as it appears in an album absolutely must be under 1:00. This excludes a lot of good material at e.g. 1:05 and 1:15, but c'est la vie.
No interviews/sketches/speeches/thematic intros.
Enough already; let's get to it! Click the links for YouTube links to the different songs.
10 – Dead Kennedys – A Child And His Lawnmower
This is a good ol' punk song. I've never been a big fan of DK but the humor is excellent and the style is interesting. Not worth more than a 10th place here, though.
If I were a cynic I'd say that this song is a good example of The Misfits' music since many songs sound pretty similar. Good thing I'm not, eh?
Bad Religion rocks! Too bad that this song is rather dull; it only gets as high as an 8th place because it's a Bad Religion song.
7 – Stormtroopers of Death – What's That Noise
Okay, okay! This song is pretty much only speech with some jingle-like riffs. But I can't leave it out!
6 – Stormtroopers of Death – Fuck The Middle-East
Well, I can't agree with the message of the song. But it's damn catchy and a good song despite its length of less than half a minute!
5 – Flogging Molly – The Wrong Company
A capella songs count. And that's a good thing – otherwise this funny and pleasant song wouldn't have made the list. To tell the truth I had never bothered listening much to it before I compiled this list.
4 – Stormtroopers of Death – Ballad of Jimi Hendrix
There are dozens of S.O.D "Ballad of" songs I could have chosen, but I selected this one because it's the first one I heard. Awesomeness!
3 – NOFX – Murder The Government
This video misses the first couple of words. If you're wondering, the complete first line is "I wanna see the constitution burn." Ah, nostalgia!
This is an extremely cute and catchy song by NOFX, the masters of short melodic punk songs. Sure, a lot of metal bands do the whole "growl growl grind grind" song-in-ten-seconds thing but that's not a proper song in my view.
Now onto number one…
1 – Blink 182 – Happy Holidays You Bastard
Good band! Good song! I'm not sure if it's truly better than the NOFX songs but given the end-of-year theme in this post I couldn't let it slip any lower.
There are other top 10 short songs lists around (such as this one featuring not a single song I've ever heard of) but I can guarantee that my list is the best! Or at least very good! Or pretty nice, at the very least! Or possibly decent. Maybe just a little bit crap. It might be rather horrible, come to think of it…