December 26th, 2008
My Tribe by Grubby Games is an island simulator in which a tribe of people are stranded on an island and have to learn how to survive. This includes gathering food, building shelter, chopping down trees and harvesting rocks (um…) among other things. I've debated with myself whether or not to call it a blatant clone of Virtual Villagers, but there really is no getting around it – My Tribe is a blatant clone. But it's also a very good game.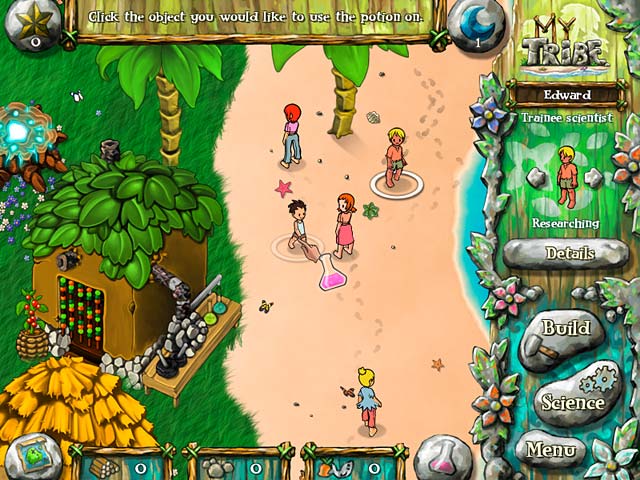 The graphics are adorable. The intro was very cute and I like the look in general – a slightly more painted look than the standard CG colored or pixel art look often present in casual games. The animation also receives some bonus points as it's fluid and pleasant, and the game screen is full of life. Butterflies and stuff fluttering around everywhere. Very nice. At times it's hard to differentiate between objects one can interact with and a colorful bird that's just decoration, but that's a small price to pay for a lively background. The audio is also quite pleasant, and I was impressed by the speech in the tutorials. Nice touch.
The gameplay quite simply is fun. There's a lot to do, a lot to explore, and you always have the urge to solve the next mystery or see what the next technology level will bring. While My Tribe is a ripoff of Virtual Villagers, it does bring some new things such as random islands instead of just a static one. Also, the island is a bit bigger and more dynamic – chopping down trees cause them to disappear and you have the option to plant new ones as well. In general there are more ways to affect the environment than in Virtual Villagers.
After a while I started feeling that the island was limited, though. I think that there needs to be more stuff to do – a bigger set of things to interact with. I may not be the ideal person for these kinds of simulators but I feel that there ought to be more to do all the time. Sure, I need to let my little islanders work in order to improve their skills, but I'd like to have minigames to play at the same time. Something to occupy my restless mind with. The game is still fun, but I can't concentrate on it since there's often nothing to do. Which brings me to another aspect of the game…
The game is progressing even when it's not running, so while you're away your islanders are still chopping up wood and fishing and researching. This is a neat idea, but also a very frustrating one: you need to remember to play now and then in order to not wipe out your entire tribe. I left the game a couple of days and feared that white skeletons would greet me upon my return, but I was pleasantly surprised. They had managed to take care of themselves and had given me an excrement-load of science points to boot! Great! I assumed that the game wasn't all that keen on that death thing, so I got cocky and left the game a couple of more days.
Disaster! Tombstones littered the island. My once proud tribe was reduced to its bare minimum. I did find two survivors though: Jeremy and Hannah were starving but mysteriously still alive. Also, a young girl was alive as well. I wonder if this is a contingency plan by the developers? "That lame dude left all his islanders to die! Well, we'd better make sure that he has enough to breed more people at least." If so, it's a brilliant idea. However, it doesn't work in practice.
This is where the game enters a downward spiral. With so few people left it's no fun to play the game, which means that you won't be arsed to start up the game very often. Which of course means that the tribe won't expand very quickly – or at all. In the end I had a tribe consisting of 54 year old Xavier, an aged woman and a young girl. It's impossible to breed more people once they are too old, so these few are the remnants of a once proud budding civilization now destined for extinction.
By the way, when you click on an islander you can see his or her thoughts. I kept seeing "Xavier is very happy to live on the island" and "Xavier thinks this island has no equal." No shit. Here's a guy who's lived a nice and cozy life alone with two women on a deserted island. You old goat, you.
Finally I have to mention that despite the game's flaws it's strangely addictive. My current tribe is doomed but I have the urge to start a new one – see if I can get things right this time. The game is still a bit limited, but fun nonetheless.
Graphics
Quite nice! Good animations and lovely painted look in the intro.
4/5
Sound
Nice music, and good sound effects. Extra credit for the voice acting even though the girl sounds smug. You biatch! Don't smirk at me while you tell me how to play!
3/5
Gameplay
My Tribes is fun, there's no getting around that. A bit lacking in variety and things to do on the island.
3/5
Addictiveness
I want to make my tribe great! I want to solve the mysteries! I want to explore lots of islands! I guess that means that the game is pretty addictive?
4/5
Technical notes
The game started up in fullscreen and did awful things to my two-screen setup. Everything was restored fine when I put it in windowed mode, though, so no harm done aside from messing up my desktop brightness. I like the loading screen – "sailing to your island" and a boat moving to the right to indicate the progress instead of a simple loading bar.
Edit: As was mentioned by Olivia in the comments below, the game can be set in slow mode if one intends to leave it for a while. The problem for me is that I never know in advance if I'll be gone for a few days – I play games when I feel like it and have the time to spare, so it's not always easy to predict these things.